Self Defense Instructor Training Designed for Fitness Professionals!
Pay It In 4 Interest-Free Installments Over 6 Weeks when you choose 'AfterPay' at checkout!
The focus of this course is to help you add self defense training to your certifications, and responsibly teach self defense to women.
Pretty Deadly Self Defense is a progressive skills self defense course designed for the specific way women learn, and that eliminates the fear and anxiety normally associated with learning self defense. Combining techniques from 11 different martial arts styles, the course was developed by a violent crime survivor with 22+ years of martial arts training.
The Pretty Deadly Self Defense program is an excellent tool to introduce new clients to fitness and martial arts through learning practical skills for every day life, enrolling more women in your fitness or martial arts practice, and helping existing clients learn where fitness moves they already know can be applied in self defense situations.
Pretty Deadly Trainer Certification prepares working fitness professionals to teach self defense techniques safely to the general public through skill demonstrations, technique refinement, and practice teaching. Taking a learner-centric approach, Pretty Deadly Trainers help their clients reach their goals through the safe and effective integration of self defense into their fitness programming.
The entire Self Defense Trainer Certification is a 30-hour course that combines interactive livestream theory and methodology training with our Master Trainers, self study (materials provided), and 12 hours in-person technique training spread over two days. During the live session, you will refine and demonstrate mastery of 15 self defense techniques and teaching methodology, and conduct a teaching demo applying the Pretty Deadly course model. To earn your Self Defense Trainer Certification, you must meet all the qualifications listed below, complete an online assessment, and commit to completing the livestream and in-person training within six months of each other.
Upon successful completion of the technique and teaching demos, you will earn your Self Defense Trainer certification.
Prerequisites:
Age 24+
Proof of Certified Personal Trainer or equivalent credential to show you are a working trainer.
If you are a martial artist, proof of training for 4 consecutive years or more
Assessment questionnaire
What makes Pretty Deadly a trusted name is the quality of our program. We uphold rigorous quality assurance standards according to the protocols set by CIMSPA UK. If you'd like to review our Quality Assurance, Inclusion, Complaint and Safety Procedures, please send an email us and we will be happy to share a PDF copy of our current policy documents.
You will attend this course via a live stream link online + live training event.
Location: Attend via Live Stream Link & Live Training Location Provided When You Sign Up
MIDWEST DATES:

Wednesday July 26, 2023 from 12pm CST - Live Training Chicago
July 26-28 Livestream from 12pm - 2pm CST
July 29-30 Live Training from 10am - 4pm CST
Test out demo workshop July 31 from 7pm-9pm

WEST COAST DATES:

Wednesday August 9, 2023 from 12pm PST - Live Training Truckee/Reno, NV
August 9-11 Livestream from 12pm - 2pm PST
August 12-13 Live Training from 10am - 4pm PST
Test our demo workshop August 14 from 7pm - 9pm PST

Open attendance for anyone!
Pre approved for CEUs.  Additional CEU information about hours and providers not listed are at bottom of page.
Course Info:
Pre Approved for CEUs / CPDs

Earn a proof of completion with Pre Approved CEU/CPD (providers below)
Earn CEUs

Earn 'Self Defense Trainer' certification
Trainer's manual, study material and equipment provided
Duration: 30 Hours
User Level: Beginner to Advanced. No previous martial arts experience needed to take this course
Delivery: When you purchase this, get a downloadable PDF of the course manual as well as online access links to scheduled livesteams and live training locations
Live Training & Demo Workshop: This course includes a 2-hour workshop is included to demonstrate you can perform movements accurately as well as teach others to do them.
Includes: Trainer's manual, Physical Certificate of Completion, and starter-kit (kickpads, marketing material) to get help you launch your first course
This course is designed to achieve safe and effective performance of basic self defense techniques and introduce exercises and games designed to improve client confidence and performance:
Theory and methodology: how to effectively teach to women's learning style
Safe teaching and safe training: how to use kickpads, how to train safely
Leadership and boundaries: how to gently enforce both
Designing a course: the elements that go into good class and course structure
Teaching self defense techniques and exercises that are fun-based, not fear-based
Pass assessments when you complete the course and earn a proof of completion!
Other Perks of Pretty Deadly Self Defense Trainer Certification:
Access to our Trainer's Dashboard, featuring reference material, a video library, and a chat forum where you can connect with our Master Trainers and other certified trainers
Access to basic business tools to help you manage your personal trainer or martial arts business, including easy-to-follow video guides for basic accounting, digital and hardcopy marketing, negotiation, and continuing professional development
Weekly "coffee chat" over Zoom to get any questions answered, learn from each other, and share course trials and triumphs
Earn a Proof of Completion and Self Defense Trainer Certification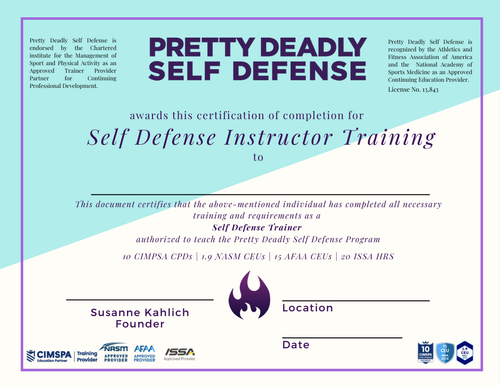 Continuing Education
AFAA: Pretty Deadly Self Derfense is recognized by the Athletics and Fitness Association of America as an Approved Continuing Education Provider. 15 AFAA CEUs for this course
NASM: Pretty Deadly Self Defense is recognized by the National Academy of Sports Medicine as an Approved Continuing Education Provider. 1.9 NASM CEUs for this course.
ISSA:  Pretty Deadly Self Defense is recognized  as an Approved Continuing Education Provider. 20 CEU hours for this course.
CIMSPA: Pretty Deadly Self Defnese is recognized as an Approved Continuing Professional Development Provider. 15 CPD credits for this course.
Frequently Asked Questions
Refund Policy. If you are unable to complete the full certification course in the requisite time period, we offer a 100% refund.
How Can I Access the Livestream? When you register for the course you will receive a link for your designated livestream access
Is This for Individual Use? While trainers can certainly use Pretty Deadly techniques should they ever use them, we do require a personal trainer or martial arts certification in order to enroll in the course
Account Sharing is not allowed. Each person viewing or taking the course must purchase a unique login.
Do I need to know martial arts? No, although you do need a good understanding of body dynamics and functional movement.
Can I use my certification with other types of combat arts? Self defense is differentiated from martial arts in its application. The martial arts, combat arts and self defense are completely unregulated, and certifications are not always recognized from one field to the other. Earning a Pretty Deadly Self Defense Trainer Certification does not make you a martial artist, although it is a great foundation for entering the martial arts.